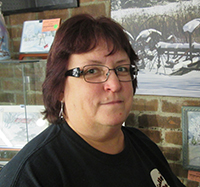 MAG Board Position:
Secretary/Treasurer
Founding Artist
Profession:
Non-profit Executive Director
Arts Director
Photographer
Artist
Organizational Affiliations:
Red Wing Arts Association
Artify – A Creative Collective
Concerned Citizens for a Creative Community (C4)
Professional Photographers of America
MNArtist.org
Areas of Artistic Expertise:
Traditional Photographer
Graphic Artist (before computers)
Fiber Artist
Florentine Marble Painter
Administrative Expertise:
Ms. Verbout has vast experience in the charitable and educational areas. As Executive Director of the Rochester Area Disabled Athletics & Recreation, Inc. (aka RADAR), she gained immeasurable experience in the daily operation of a charitable organization and writing grants to support that operation.
………..
Loretta has been a photographer and artist for over 30 years; and while creating a variety of artistic pieces in various media, she continues to return to photography. Her focus tends to be in capturing everyday sites that we most may normally pass by or not give a second thought to, along with trying to look at things from a different angle. The majority of her works tend to be pictures of local nature, things from her own floral garden, and explorations of the nature of Minnesota, northwestern Illinois, Wisconsin and northeastern/east-central Iowa.Loretta graduated with B.S. in Art from Illinois State University in Photography and Graphic (hand drawn) design, with focuses in business and education. As Executive Director for Rochester Area Disabled Athletics & Recreation, Inc., (aka RADAR) and as the Community Liaison for the Mayo Clinic Department of Rehabilitation, she was instrumental in the establishment of the Art Workshop between RADAR and the Studio Academy Arts High School and the Annual Arts & Abilities Art Show that promotes artists with disabilities.In 2007, she and a group of area artists were instrumental in the creation and start of The Mantorville Art Guild Gallery & Studio located in historic Mantorville, MN in the southeastern portion of Minnesota.Loretta's photography has won a variety of awards in several local shows. Residents of northwest Rochester for over 20 years, she shares her passion for photography and nature with her husband, Jim, their grown children, Kimberly and Brandon, their son-in-law, Ryan, and dogs, Wicket and Tanner. Along with photography and other art forms, Loretta enjoys fishing (especially bass and walleye), cooking, reading, traveling, gardening, sewing, as well as exploring the disappearing arts of tatting, filet net lace and more.